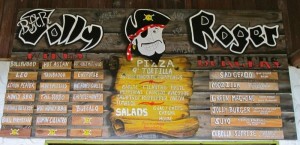 Nearest Town: Dominical
Area: Escaleras
Food Types Chicken
Libations: Beer & Wine, Fully Stocked Bar
Hours: 
Open: 4:00 PM
Close: 9:00 PM
Directions
Head south from Dominical or north from Uvita. When you see the entrance to Cuna Del Angel on the ocean side of the highway, you'll see a road across from Cuna going up the hill. There is even a Jolly Rodgers sign there. Drive up that 4 wheel drive road. You'll see the sign to Jolly Rodgers about 5 minutes up on your left.
Storm & Amy, proprietors of Bar Jolly Roger in Dominical, well actually, just south of Dominical, have clearly demonstrated that, if you do something well, folks'll go out of their way to find you, and in the case of Jolly Rodger, to make your place a hit.
CASH ONLY
Bar Jolly Rodgers is a phenomenon. The place is hopping. There is an atmosphere of fun, and the burgers, chicken wings and cesar salads are top notch.
I'm not just saying this. This is no mere hype. There is nothing in this for me other than wanting to share what I find in the various restaurants and services in and around Dominical. The chicken wings that I've had at Jolly Rodgers are the best I've ever had. There is a chicken wing menu. The last time I counted there were 16 23 flavors available. I'm a fan of spicey: "picante" as it is said in Spanish. Storm is available to dish up a picante plate of chicken wings.  But, barring this, the Lemon Basil Wings are among my favorites. You can order a side of blue cheese dressing and I will generally order a side of hot sauce with mine.  Natalie's favorite are the Honey / Garlic wings. Yes, there are even the standard Buffalo Wings for you traditionalists.
Saturday night is poker night, and so things start getting ramped up at around 8:00-ish.
For visitors to the Dominical and Uvita area, if you want to get to know the expats that live in The Zone, stop by. Any night will do, but you'll get an intense dose on Saturday night.
The Super Bowl bash that Storm & Amy put on rivals any of the other annual celebrations for passion and spectacle – including Christmas. If you missed it, make plans for next year. There is the Great Chile Cook-off where various arm chair chef's compete for Best Chile, so it is a rocking good time.  Storm is truly a Master of Ceremony, even if he has an abiding passion for the Pittsurg Stealers.
The bar is well stocked and there is an extensive beer selection. The main attraction at Bar Jolly Rodges is the Chicken Wing menu.
CASH ONLY – NO CREDIT CARDS